Best Practices to optimize the DW Alliance Publisher tool: Part Two
Catherine Black Oct 28, 2009
In this second installment of tips to maximize your use of our Publisher, you can learn how to maximize the many advanced features of our system: from differentiating between paid and unpaid content, to uploading PDFs and other documents, to creating automatic photo galleries. more detailed ways to professionalize and edit your content.
Before we begin:
If you don't see some of the features mentioned below in your publisher please let us know and we will enable them for you.
In your CRM's article management page, click on the + to the right of each feature group to open the corresponding window of optinos.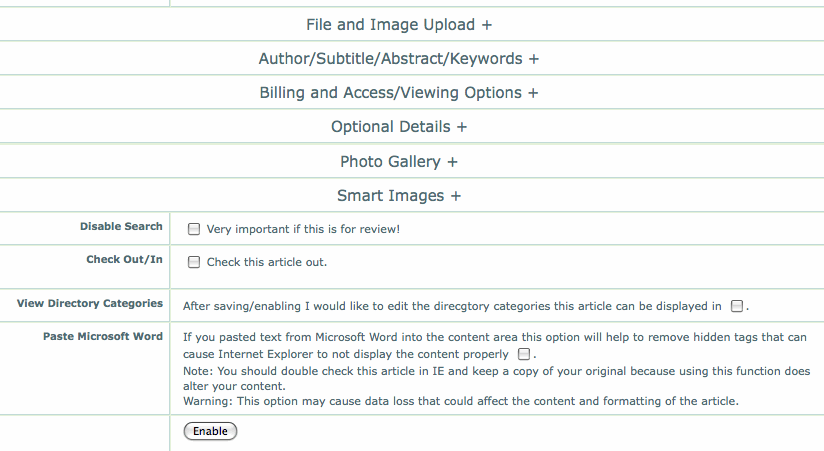 File/Image Upload: With this feature you can upload images (up to 80kb) and files (such as PDFs or Word documents up to 1 mg) and then simply drag and drop them into the content area of your article. If you upload a file, first browse and upload from your local hardrive to the system. When the file name appears in the File Upload box, copy and paste it into the content area to create a link from which end users can download the document.

Author/Subtitle/ Abstract/Keywords.

The Author feature allows you to attribute your article and include more information about your regular contributors. By clicking on "author bios" in the publisher menu you can create an author bio and photo. When you click on the author feature in the article management page, you have the option to attribute it via a drop-down menu of your existing author bios.

The Subtitle feature is another chance to incorporate keywords and a common formatting element in publishing articles, as is the case with many news and content-oriented websites.

An Abstract is a longer teaser for purchase-only articles (see below). If you opt to make all or part of your content available only to paid subscribers, the abstract will appear as a summary of your article to viewers.

Keywords will be placed in the keywords area in your article's meta tags and increase that page's page ranking on Google. This is where you should put all the important search words relating to this article, but it's important to make sure these keywords are also on the article page itself because if they aren't, the Google search engines will actually lower your page ranking.

Billing and Access/Viewing Options:

These options allow you to control access to your content. You can charge a fee to view an article available either via subscriptions or single-article purchases, or you can simply require that readers log into your CRM in order to view articles (enabling you to keep track of your readership). Finally, you can opt to charge for additional documents, such as downloadable files associated with these articles.

Optional details:

Issue allows you to associate various articles together without having to affect the categories feature. For example, if you have a print as well as an online version of your publication, you can group all the content associated with the print issue together while also placing them into different online categories. If you're using this feature any images or additional files (such as PDFs) that you associate with one article will be accessible by the other articles so you only need to load them once.

Tagline appears at the end of the article and us useful for references, research, editor's notes, and other information more appropriate to the bottom of the page.

Redirect to alternate page: This feature is useful for articles referencing other websites, and is often used in blogging. For example if you are committed to posting new content every day, it is common to reference material published on other sites. This feature will redirect directly from the title of your article.

Custom path: this feature creates a readable url for your article so that you can reference it without the complicated url automatically assigned by the publishe. For example, the custom path this article would be: https://store.dwalliance.com/publisher_bestpractices2. It's important to stick with numbers and letters, and do not use spaces.

Photo gallery. This tool allows you to upload large quantities of images directly from your camera to the publisher's ftp file server. Once uploaded, you identify their location here and the photo gallery tool will automatically create thumbnails and web-optimized images. As in the custom path tool above, you can create a gallery path url within the publisher to avoid replicating your ftp url.

Smart images: This tool applies to your website's home and category landing pages. It enables you to associate a large image with the top article in your list while all the other ones are smaller. This give visual priority to your lead article. It is important to upload two images per article (one large and one small) if you want this feature to work.

Disable search: if you have an article that isn't ready to be viewed by the public yet, but want it to be available internally on the system, you can disable the search function so that no outside users will be able to find it. In order for this function to work you must first enable the article, then go back to the article management page and click "disable" so that the article isn't available to the public.


Check out/in. If multiple editors are working simultaneously on the publisher system, the check out/in feature is useful to avoid overwriting articles. If you click this feature, and someone else opens the article, they will get a warning message that you've checked this article out. If you're in a busy environment this lets people know that someone is already editing the page. It's important to note that this feature doesn't put a lock on the page, it just creates a warning message.

View directory categories. For heavy content portals who work with hundreds of categories, they can create a categories directory to make organizing and tagging individual articles more simple.

Paste Microsoft Word: If you are pasting content directly from Microsoft Word this feature enables you to avoid the automatic tags that Internet Explorer will produce.



Page 1 of 1



Create Discussion