Register Multiple People Simultaneously
Sep 29, 2010
Offering group or multiple registrations as part of your online registration page shouldn't have to be complicated. DW Event has multiple features for a flexible group registration including:
Numberically defined group registration types: You create a separate registration or ticket type for groups and decide your minimum and maximum numbers of purchases at that price.
For example, let's say your regular registration fee is $100 but you offer a group discount ticket for $80 for groups of 3 or more. With DW Event you can set the minimum and maximum (if needed) numbers of tickets that must be purchased in order for this price to work. If someone tries to purchase 2 they will get an error message reminding them that they must purchase one more ticket in order to get the reduced price.

Registering other individuals within a group: One person might complete the group registration process, but the names and information for the rest of the individuals in their group will still need to be entered into the system in order to provide accurate name badges, itineraries, and email confirmations. With our integrated contact database, you can simply log into your company listing and select from the list of employees to register additional members of your group.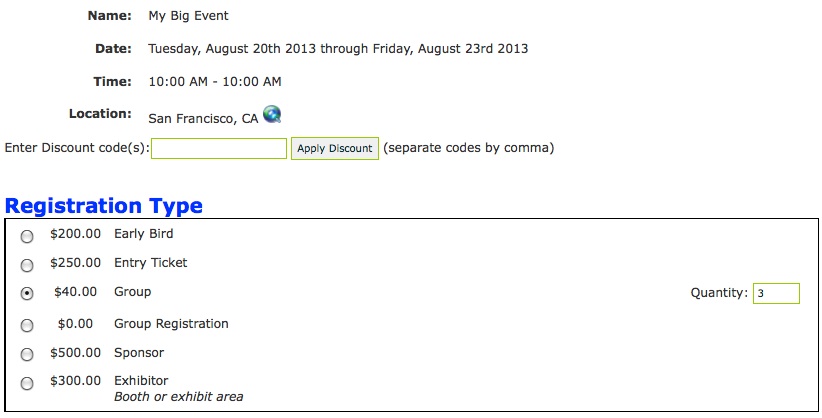 Registering individuals as part of a group later on: This features enables one person from within a group or company to purchase a set of tickets with a single online registration and payment process. However with our user account-based system, additional employees within that company only need to set up their user account within our system and can later log in and register themselves within the pre-purchased group tickets.



Page 1 of 1



Create Discussion